Plus, WHY IS THIS RESTAURANT SO LOUD?, and other great stories you may have missed
Article content
Here's your Weekend Posted. Gentle reminder: This weekend marks the start of daylight saving time. So remember to move those clocks forward (if you have clocks that don't just do it automatically). Now, back to our regularly scheduled programming. Over here at Posted we're big pet people. It's been a long winter for you and your pets. We suggest getting outdoors with your animals this weekend to do some fun stuff. Everyone will be better off. (Also, stick around to the end for a great photo of a Very Good Dog.)
Article content
ROXHAM ROAD
There's a lot of talk in political circles about Roxham Road, the irregular border crossing in Quebec. But what do the people who live there actually think? The National Post's Christopher Nardi travelled to St-Bernard-de-Lacolle, a small municipality along the U.S. border, to find out what the residents, who are on the frontlines of handling the refugee influx, actually think. As it turns out, those who live near Roxham Road are torn between empathy and frustration. "Roxham Road is almost a necessary evil at this point," said Mayor Estelle Muzzi. "It's unfortunate that I have to say that, especially for the citizens who live nearby. But when you hear people saying they should close it, where will the migrants go? They'll just walk through other roads and people's backyards." In January alone, 4,800 refugees crossed the border into Canada. And residents who live nearby worry that their property values might be affected. Nardi reports that border guards sometimes need to use translation services on their phones to communicate with the people coming, warning them that they will be arrested if they illegally cross the border. Still, people keep coming, and politicians keep talking, searching for solutions or, in the case of Quebec Premier François Legault and Conservative Leader Pierre Poilievre, demanding one immediately. There's one upside, notes Gaetan, who lives nearby: "We're possibly the safest neighbourhood in Canada right now."
Article content
---
BIT LOUD, EH?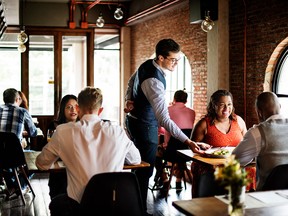 When you're out for a spot of dinner, doing the browsing and sluicing, as novelist P.G. Wodehouse once called it (yes we're fans, and yes it's a niche reference) you may have noticed an odd thing: It's rather loud, isn't it? You may have thought, if like us you're in the middling millennial years, that this is just part of becoming a stodgy old person. But it turns out, according to a fascinating story from the National Post's food writer Laura Brehaut, that restaurants are actually getting louder. And the thing to know about this is it's not just annoying, as you bellow across the table to your date or friends, but it actually might be bad for your hearing. An app called SoundPrint records decibel levels in various places. And it turns out that four in 10 restaurants in Canada are dangerously loud, over time. Only three in 10 are suitable for conversation. So no, it's not just you — it's actually loud out there, and getting louder. The data from SoundPrint shows that Toronto and Vancouver have average decibel levels of 77.9 and 79.2 respectively. Montreal averages 81.2. New York — maybe the best city on earth for getting amongst the food — rings in at 77.8 decibels. So, the next time you're planning a dinner, the SoundPrint app could help you determine whether you'll actually be able to have a conversation.
Article content
---
NATIONAL POST NEWS QUIZ
Ready to test your mettle against the news of the week? We bring you another edition of the National Post news quiz. A hint: A little bit of knowledge about why CBC made the news this week will help you out!
---
ET CETERA
Executives at Google were summoned to Parliament to explain why they blocked Google News content for some Canadians. They told parliamentarians that there were "very serious problems" with the legislation that would force social media giants to share money with news corporations, such as Postmedia.
As the political fallout from revelations that China interfered in Canadian elections continues, Chinese-Canadians told members of Parliament that they have been targeted and harassed for decades. Parliamentarians heard that China's intimidation and harassment of the diaspora has grown ever-more sophisticated.
Michael Chan, an Ontario politician who has a history of echoing Beijing's talking points, has called for an inquiry into CSIS, alleging racial profiling and the spreading of false allegations. Chan, who has defended China's crackdown in Hong Kong, says that CSIS has persecuted him for 13 years. Chan made the call for an inquiry in a letter posted to social media, and it has been heavily covered in the Chinese press. 
Also on the foreign interference story, National Post columnist Terry Glavin wonders how Americans would have acted if Donald Trump cozied up to Russia the way Glavin believes Justin Trudeau has cozied up to China.
Article content
---
DEAR DIARY
In the weekly satirical feature Dear Diary, the National Post re-imagines a week in the life of a newsmaker. This week, Tyler Dawson takes an imagined journey inside the thoughts of an eminent Canadian who considers becoming the special rapporteur to investigate Chinese election interference: How unimpeachable is unimpeachable enough? There was that time as a teenager when I stole a chocolate bar from a 7-Eleven. Nobody found out. But I know it happened. I once got a speeding ticket, too. That's not so bad as hitting someone with a car, which other eminent Canadians have done, but am I still unimpeachable? 
---
SNAPSHOT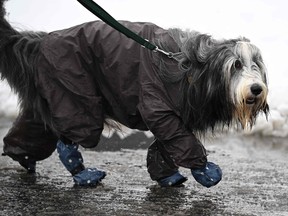 Denial of responsibility! Bulletin Reporter is an automatic aggregator around the global media. All the content are available free on Internet. We have just arranged it in one platform for educational purpose only. In each content, the hyperlink to the primary source is specified. All trademarks belong to their rightful owners, all materials to their authors. If you are the owner of the content and do not want us to publish your materials on our website, please contact us by email – admin@ bulletinreporter.com . The content will be deleted within 24 hours.