What to Know
Conjoined twin girls from Saginaw were born prematurely in October 2022 at Texas Health Harris Methodist Hospital Fort Worth.
The girls were separated Monday, at 16 weeks of age, in an 11-hour surgery at Cook Children's Medical Center in Fort Worth that the hospital described as "rare" and "groundbreaking."
Doctors are optimistic about the girls' prognosis; they'll now continue their recovery and rehabilitation at Cook Children's NICU.
Cook Children's Medical Center in Fort Worth says they successfully separated their first set of conjoined twins on Monday, 16-week-old sisters AmieLynn Finley and JamieLynn Finley, of Saginaw.
During a news conference Wednesday, the hospital identified the girls' parents as Amanda Arciniega and James Finley and said they were "overjoyed to reunite with their girls and see them in their separate cribs, laying on their backs for the first time on Monday evening."
The hospital said doctors are optimistic about the twins' recovery and said that as they heal over the next few days their primary focus will be on breathing support and pain control.
The 11-hour separation surgery, described by the hospital as "rare" and "groundbreaking," was the first of its kind for the children's hospital. During a news conference Wednesday afternoon, the medical team shared their insights into the procedure and discussed the monthslong preparations that went into planning the surgery after confirming the girls were conjoined.
The hospital said Amanda and James learned that their fourth child was actually twins during a 10-week ultrasound. The ultrasound also revealed the babies had little or no separation between them. During a subsequent appointment, it was confirmed the babies were conjoined.
Over the course of her pregnancy, Amanda met with many specialists and learned her children each had their own heart and heart sac, increasing their chances of survival and making them candidates for separation. The girls were born prematurely via C-section at Texas Health Harris Methodist Hospital Fort Worth on Oct. 3, 2022, at 34 weeks, weighing 4 pounds and 7.8 ounces.
The twins are considered omphalopagus twins, meaning they were joined at the abdomen and shared one or more internal organs. In their specific case, they were face to face and were joined from the lower part of their breastbone to their belly button. The girls also shared a liver.
On the day of the surgery, the expansive team of medical professionals consisted of three anesthesiologists, four pediatric surgeons, two plastic surgeons and 18 other clinical professionals.
The team was separated into two teams, one for each girl. Those in purple scrub hats were on JamieLynn's team, while Team AmieLynn wore green scrub hats, and all items associated with their surgery in the twins' care were color-coordinated accordingly, even the girls' nails were painted in coordinating colors.
"The team comprises dozens of medical experts from across multiple specialties. They collaborated on this procedure, leveraging the team's expertise in treating the most difficult and complex pediatric conditions," the hospital said.
An emotional video played during a news conference showed the preparation and process of the separation.
Cook Children's Medical Center in Fort Worth says they've successfully separated a set of conjoined twins in a news conference Wednesday.
Doctors said it took five hours from the time the surgical teamed rolled into the surgery room to the time the twins were separated. It took another six hours to evaluate the girls for any additional anomalies and to close their chests and abdomens.
At about 6 p.m., Amanda and James got the good news that the surgery was complete and that their daughters were in different cribs.
"We did it," Finley is quoted as saying in response. "I don't know what I did, but we did it."
The hospital said there are still some unknowns regarding the girls' recovery, including how their bodies will respond to no longer sharing some vasculature and anatomy.
"At this stage in AmieLynn and JamieLynn's growth and development, this was the right time for them to have the surgery," said Dr. Mary Frances Lynch, a neonatologist at Cook Children's Medical Center. "Separation now will benefit AmieLynn and JamieLynn by allowing them to continue reaching important growth and development milestones in their individual health journeys."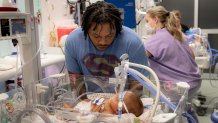 The emotionally overwhelmed parents shared their excitement about the successful surgery. The father of the girls said he wore a Superman shirt in honor of their strength.
"Sometimes I feel like I need to be the strength and pillar of my family and that's what I am," said James. "We didn't think it was gonna happen. A lot of doctors told us that a lot of conjoined twins don't live that long."
The hospital said AmieLynn and JamieLynn will continue to receive care from Cook Children's Medical Center's neonatology and NICU teams, focusing on their healing and continued growth and development.
---
Bishop TD Jakes, who spoke before the news conference, met with the family and called for prayers for the children on Sunday afternoon.
---
Cook Children's said it's estimated that conjoined twins occur in 1-in-200,000 live births and that only five to eight conjoined twins worldwide survive the first few days after birth.
This is at least the third set of conjoined twins separated in North Texas children's hospitals.
In October 2003, two 1-year-old Egyptian boys, Ahmed and Mohamed Ibrahim were conjoined at the head and were separated during a 34-hour surgery at Children's Medical Center in Dallas. The boys eventually returned to Egypt but periodically returned to North Texas for subsequent procedures and checkups.
Ten years later, in August 2013, Owen and Emmett Ezell, born conjoined on July 17 and connected from the chest to the belly button, shared a liver and intestines. The boys underwent a successful 6-hour separation surgery at Medical City Children's Hospital in Dallas.
Some portions of this article were obtained from prior Associated Press reports or from a statement provided by Children's Medical Center in Fort Worth.
Denial of responsibility! Bulletin Reporter is an automatic aggregator around the global media. All the content are available free on Internet. We have just arranged it in one platform for educational purpose only. In each content, the hyperlink to the primary source is specified. All trademarks belong to their rightful owners, all materials to their authors. If you are the owner of the content and do not want us to publish your materials on our website, please contact us by email – [email protected] bulletinreporter.com . The content will be deleted within 24 hours.