'The way everything was unfolding, we just started losing all hope. It was an absolute circus'
Article content
The Canadian airline crew held in sometimes-frightening conditions in the Dominican Republic after reporting contraband hidden on their plane finally made it back to Canada Thursday, ending a bizarre, eight-month ordeal in the Caribbean nation.
Article content
Crew members shed tears, hugged loved ones and seemed to grin uncontrollably after arriving at Toronto's Pearson airport on a WestJet flight from Punta Cana.
Article content
They were greeted by family members who last saw them in person in early April, as the crew set off on a trip that was supposed to take barely 24 hours.
The two pilots, two flight attendants and mechanic with tiny Pivot Airlines were allowed to leave the Dominican Republic after prosecutors there announced two weeks ago they had insufficient evidence to charge the group.
Their seven passengers have also been cleared to exit the country.
"It's hard to believe that we're actually back home," said flight attendant Alex Rozov after embracing his partner in a private corner of the airport set aside for the crew.
Article content
"The way everything was unfolding, we just started losing all hope," he said. "It was an absolute circus. It doesn't make any sense the way they were trying to prosecute us."
Mechanic B.K. Dubey was the employee who discovered contraband on the Pivot plane, and saw his life change in more ways than one. The native of India was granted Canadian citizenship at the embassy so it could better assist him during their 240 days in prison and on bail.
"I'm back, I'm with my family. I'm really happy," he said, clutching a bouquet of flowers his wife had brought to the reunion. "I can't express it."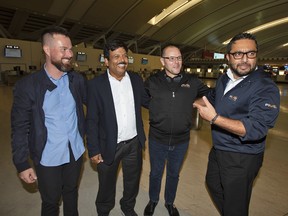 Rob DiVenanzo, the flight's captain, said he was "overwhelmed" with emotion and figures it will take time to adjust to a normal life again.
Article content
"The last two months I really started to lose hope, though I knew we did the right thing," said DiVenanzo. "I really started to feel they had it out against us, maybe for what we discovered."
Meanwhile, Pivot CEO Eric Edmondson urged the federal government Thursday to launch an investigation of aviation in the Dominican Republic, saying commercial airliners are being used routinely to smuggle drugs out of the island.
A million Canadian vacationers a year travelled to the country before the pandemic.
"Narco-trafficking is directly tied to tourism," Edmondson charged. "The airplanes that fly the tourists in are flying narcotics out."
The Canadians' troubles began as they were about to take off from the resort town of Punta Cana on April 5, the flight chartered by an Alberta company that said it was entertaining potential investors and their guests. A different crew had flown the passengers there several days earlier.
Article content
Video clears detained Canadian air crew but Dominican police ignoring it, CEO says

'A living hell': Canadians who reported cocaine in plane urge Trudeau to lobby for their freedom
When Dubey discovered a sports bag inside the "avionics bay" — a compartment accessed from the outside of the CRJ-100 jet — the airline notified the RCMP and local police. Dominican authorities eventually found eight bags inside the area reserved for wiring and computer equipment, announcing the luggage contained 210 kilograms of cocaine.
And then the Canadians who had reported the stash were arrested and sent to jail.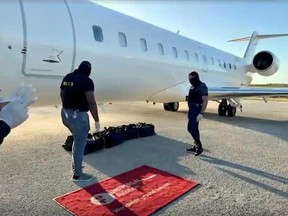 For nine days they were kept in cramped cells, the men saying they were harassed and threatened daily by accused drug traffickers who demanded the foreigners transfer money to them or face violent retribution.
Article content
The group was eventually freed on bail, though prosecutors had argued they should be kept locked up for 12 months as the case was investigated, and later appealed the decision releasing them.
Their passports confiscated, the Canadians were ordered to stay in the Dominican Republic. They did, but faced death threats outside prison and lived under armed guard for much of the time, according to Pivot.
Finally on Nov. 11, prosecutors belonging to the Public Ministry announced they were ending their case against the Canadians — "acting responsibly, since the investigation had not obtained sufficient evidence to substantiate the accusation."
Edmondson said he hopes that Transport Canada will look into aviation in the Dominican Republic and its role in narcotics trafficking.
Article content
Police there have often accused airport workers of helping run drugs, like in an alleged attempt last December to smuggle 47 kilograms of cocaine on a flight to Toronto. In a striking parallel to the Pivot incident, U.S. customs officers discovered cocaine hidden in the avionics bay of a plane that landed in Philadelphia from Santo Domingo, D.R., in August.
"I hope that the Dominican Republic takes what we bring to light seriously, and more so that Transport Canada takes it very seriously," said Edmondson.
Prosecutors had alleged at the bail hearing, without offering evidence, that the Pivot flight was itself an elaborate front for drug trafficking.
But as Pivot hired a private security firm to investigate the hiding of the contraband, the Canadians say police never interviewed them, let alone laid charges.
Article content
Meanwhile, the airline obtained airport security video in August that it says shows an unrelated third-party stashing bags in the plane's avionics bay in the middle of the night, while the crew were in their hotel. Dominican authorities have had the footage since April.
Prime Minister Justin Trudeau raised the Canadians' plight with Dominican President Luis Abinader earlier this year, as did Foreign Affairs Minister Melanie Joly with her counterpart. In response to a question from Conservative Sen. David Wells last month, Transport Minister Omar Alghabra warned that the Dominican Republic risked sending a message to the world that it's unsafe for commercial air crews to fly there.
Article content
The Airline Pilots Association, North America's largest pilots union, and unions representing the other Pivot employees, had issued advisories warning airline crews flying into the country to beware of such perils.
Pivot's plane — which previously flew Air Canada Express flights under contract — was its main source of revenue, said Edmondson. Having it stuck in the Caribbean for seven months has had "more than a major impact."
But Pivot's owner, private equity firm Binder Capital of Calgary, has kept the airline afloat and ensured no employees had to be let go, he said. The jet was ordered released by a Dominican judge and Pivot expects to have it back in Canada shortly, said the CEO.
Denial of responsibility! Bulletin Reporter is an automatic aggregator around the global media. All the content are available free on Internet. We have just arranged it in one platform for educational purpose only. In each content, the hyperlink to the primary source is specified. All trademarks belong to their rightful owners, all materials to their authors. If you are the owner of the content and do not want us to publish your materials on our website, please contact us by email – [email protected] bulletinreporter.com . The content will be deleted within 24 hours.